The Grape Grower
A Guide to Organic Viticulture
book review by Bob Cannon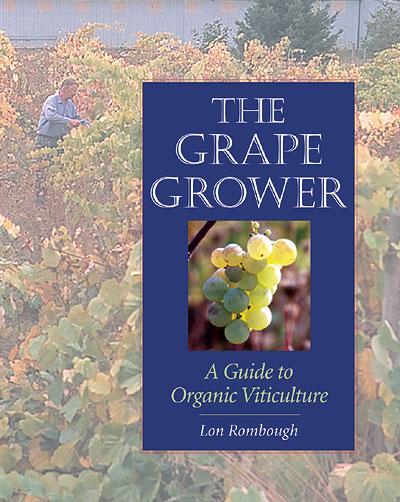 I can't say that I read author Lon Rombough's new grape book. Devoured it is closer to what happened. I've done this before, but with authors such as Robert Heinlein, John D. MacDoanld and most recently Ben Bova; all of which write (or wrote) fiction. Many of our readers may know Lon Rombough through NAFEX.

Grapes have always been an elusive crop for me. Coastal Florida is generally thought to be too hot and humid for 'real' grapes. Of course we do have native grapes but most are a bit strong for nibbling out of hand. With this in mind I was truly surprised at how much I enjoyed Lon's book.

The reader can tell that not only is The Grape Grower written by someone with experience but by an author who can share what they have learned. Subtitled: A Guide to Organic Viticulture readers are presented with clear and concise information and methods – not preached at.

The opening three chapters; Structure of the Vine, Getting Started and Pruning and Training do much to prepare the prospective grower. While most seasoned rarefruiters can plant properly, gaining an understanding of vine structure as related to producing a healthy, fruiting plant is vital for this crop. I went back and reread the information on training and find that I comprehend the how and why involved in what has always been a mystery.

Following chapters on problems (disease, insect, birds…) prepare the grower for success. I found the disease information clear and it helped me to understand what is a complex subject. Fortunately many of the diseases are regional and there are an increasing number of resistant varieties of plants available.

The book finishes with information on propagation, varieties and species and specialized information for both cool and warm climates. There is also a chapter on breeding and a very useful glossary and index.

There are illustrations by Elayne Sears and some excellent photographs by the author. The Grape Grower, Winner of the 2003 award for "Best Talent In Writing" from the Garden Writer's Association.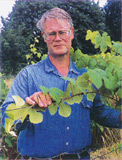 The Grape Grower by Lon Rombough. Copyright © 2002 by the author. ISBN 189013282-9 Chelsea Green Publishing Company. Soft bound, 8x10, ixv, 289 pages, index, $35.00.



I highly recommend this book to anyone who is serious about growing grapes, be it one plant or many. If you buy through the link below the proceeds help us bring you more articles and reviews.


Update: Reports are that this book is out of stock at the publishers and may be out of print. There are a number of copies available at the links below, happy reading.









If you follow this link to the review on my commercial site you will find a direct link to get your own copy of The Grape Grower. The link opens in a New window for your ease in continuing here.











© MMIV, MMIX - Volume 1 Number 2 Whole Number 2 Tropical Visions (Updated 2009)